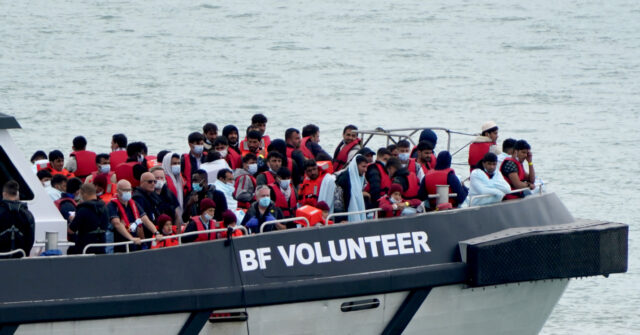 Albanian smuggling gangs have reportedly been using the Chinese social media platform TikTok to advertise illegal ships crossing the English Channel under the noses of the British government.
A GB News investigation has found that human-trafficking gangs advertise illegal migrants on the Chinese-owned short-video social media platform TikTok, offering to take them across the English Channel from France in small rubber boats.
according to investigation, people smugglers charge up to £5,500 to take a person across the English Channel, however other videos offer a £3,500 'summer sale'. While some migrants from wealthier countries such as Iran are more likely to pay up front, many will agree to work in slave-like conditions in the UK to pay off smuggling gangs.
"We have a route every day until the end of July. We are the best dribbling group in France. The price is £5,000, DM for the next route," says one video.
"Only £4,000, what are you waiting for? Leave today, get in touch in DM tomorrow. Direct France-UK at four every day," said another ad.
The TikTok post was first spotted by a GB News viewer, who told the broadcaster: "I'm just a regular member of the public and have put myself down a rabbit hole on TikTok and I can't believe what I'm seeing…if It's easy for me, so why don't the authorities do something about it."
People smugglers use Facebook to promote fake 'cruise ships' to Europe https://t.co/6hkqRwfqCD

— Breitbart London (@BreitbartLondon) August 18, 2020
The investigation comes after another 696 people illegally crossed the strait on Monday, the highest single-day figure this year. The latest landing means more than 17,000 people have successfully reached UK shores so far this year.
Commenting on the findings, GB News presenter and Brexit leader Nigel Farage questioned why the videos were discovered by "regular" viewers and not by the Border Force, Home Office or police.
"How can they not find this? If any of you comment on any social media platform that people disapprove of, you will be suspended or even permanently banned. We have a thousand police officers…monitoring what they call hate speech — — which actually means opinion in most cases — so how can criminal gangs use TikTok without being blocked?" he asked.
Mr Farage also raised security concerns, noting that Islamic terrorist groups such as ISIS use the "Mediterranean Sea to get their agents into Europe to see what attacks have happened in Paris".
"I'm sure there are a lot of lovely people out there who are desperate to get out of Iran or anywhere, but that's not the point. We need to control that and frankly, as far as I know, the next prime minister won't do that," he said of Truss said the two candidates were vying to replace Boris Johnson, former prime minister Rishi Sunak and foreign secretary Leeds.
Last month, the independent chief inspector for borders and immigration found the "unforgivably poor" handling of illegal immigration posed a security threat to the country. Border officials routinely allow migrants to enter the country without records, fingerprints or even collection of accurate names, causing hundreds to abscond from taxpayer-funded residences and disappear into the country, the report found.
UK Home Secretary Patel to give France millions again to stop boat migration into record 600 parcels of landhttps://t.co/tMIFYVBpcM

— Breitbart London (@BreitbartLondon) August 2, 2022
Follow Kurt Zindulka on Twitter @KurtZindulka