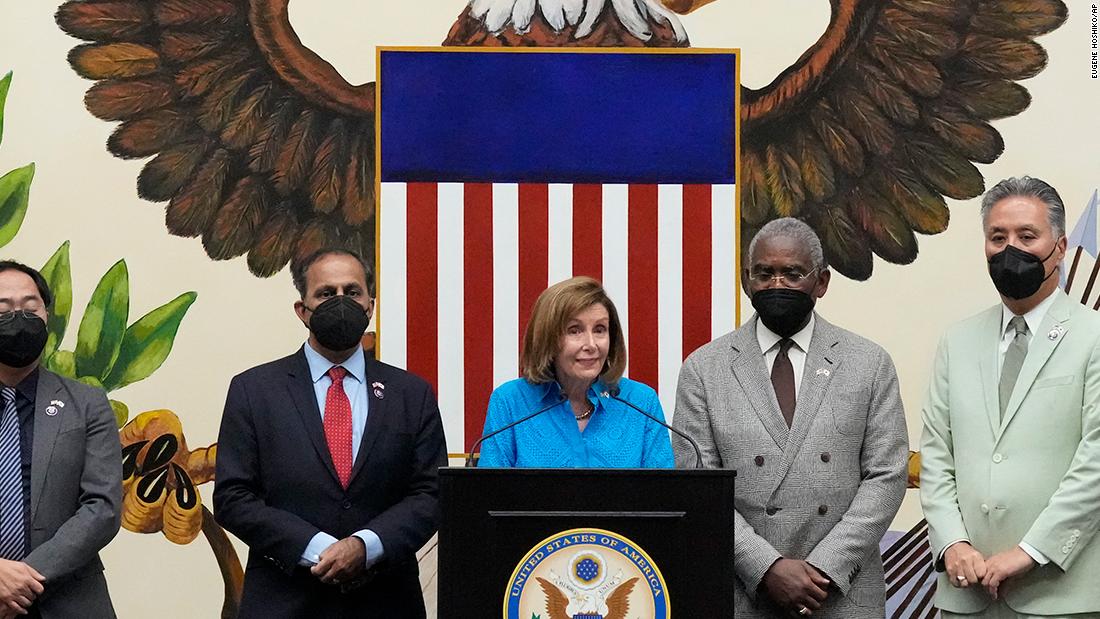 Pelosi told a news conference in Tokyo on the final stop of her Asia tour that China was trying to isolate Taiwan from the international community but would not prevent U.S. officials from going there.
"We will not allow (China) to isolate Taiwan," she said. "They didn't make our travel plans."
Pelosi's visit to Taiwan on Wednesday to meet with President Tsai Ing-wen and other leaders angered her.
China's
The Communist Party sees the self-governing democratic island as its own territory – although it never controls it.
Ahead of the visit, Beijing had warned that it would take "strong measures" if Pelosi moved forward, While she was away, it launched a live-fire military exercise And launched a missile over Taiwan for the first time.
Taiwan's Defense Ministry said that as of 11 a.m. Friday, several Chinese military planes and warships had conducted exercises near the Taiwan Strait and crossed the median line between the Taiwan Strait and mainland China.
Taiwan's military responded with radio alerts, air patrol units, naval ships and shore-based missile systems, Taiwan's Defense Ministry said.
On Thursday, China sent 22 warplanes into Taiwan's Air Defense Identification Zone (ADIZ), all of which crossed the center line.
Some countries, including the Group of Seven, some of the world's largest economies, have criticized China's drills, urging Beijing not to change the status quo in the region.
In her comments Friday, Pelosi said the visit to Taiwan was to maintain the status quo.
"It's about the Taiwan Relations Act, the U.S.-China policy, all the legislation and agreements that establish our relationship — making peace in the Taiwan Strait and maintaining the status quo," she said.
Japanese Prime Minister Fumio Kishida called for an immediate end to the exercise, saying it was a "serious issue concerning the safety of our country and the people".
Earlier, Japan filed a formal complaint after five Chinese missiles fell into Japan's exclusive economic zone.
China canceled a scheduled meeting of its foreign ministers with Japan amid deteriorating relations.
On Thursday, Chinese Vice Foreign Minister Deng Li summoned European countries and European Union envoys to China to protest their remarks about Taiwan.
The G7 statement "distorts the facts" and is a "blatant political provocation", accusing the relevant countries of interfering in China's internal affairs.
Pelosi's visit is the first by a House speaker in 25 years since former Speaker Newt Gingrich visited Taiwan in 1997. Her Asia tour also included stops in Malaysia, Singapore, South Korea and Japan.
Gawon Bae and Yong Xiong in Seoul, CNN, Emiko Jozuka in Tokyo, Eric Cheung in Taipei, and Sam Fossum in Washington contributed to this report.